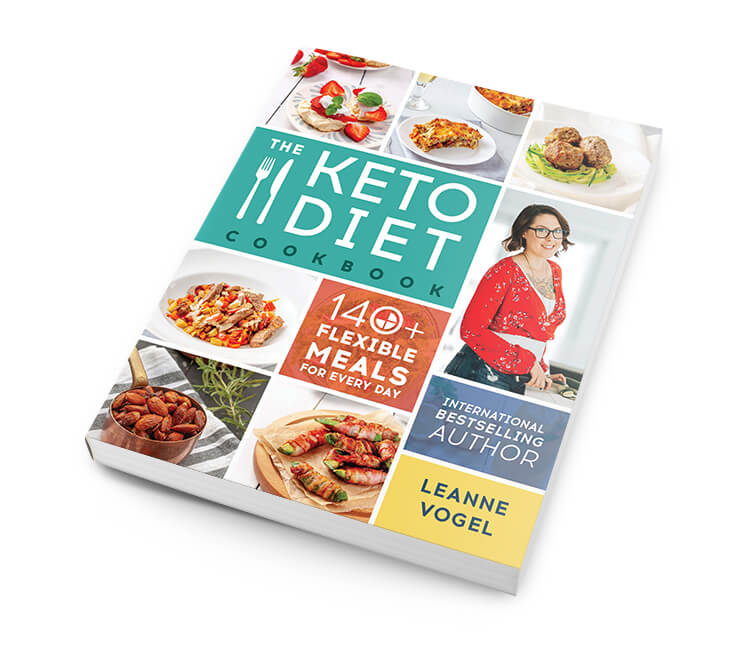 THE KETO DIET COOKBOOK
Releasing April 9, 2019, my newest cookbook is complete with a roadmap to preparing keto meals based on your hunger level and unique goals, complete with 140+ recipes which provides a whole new approach to keto food prep.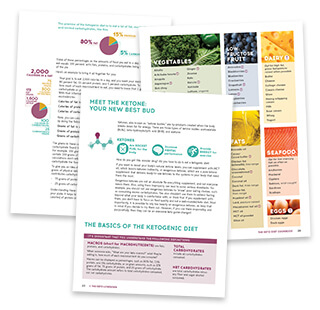 Understanding Ketosis
Showing you how to up-regulate your body on keto so that you can make the changes you want to, with ease.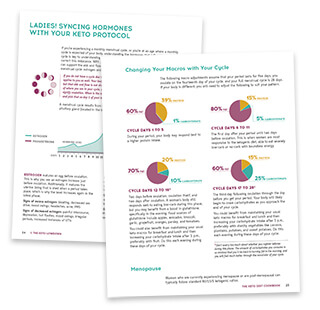 Adjusting For Your Hormones
Women need something a little different. Learn how to adjust your macros throughout your cycle for the best possible results.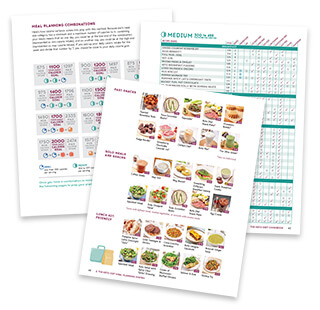 Building Your Meal Plan
Use the templates to develop your personalized eating program, complete with variances you need to achieve total fat burning.
GET THE BOOK AND GET FREE STUFF…
When you get your book, go here to receive this FREE Keto Essentials Bundle: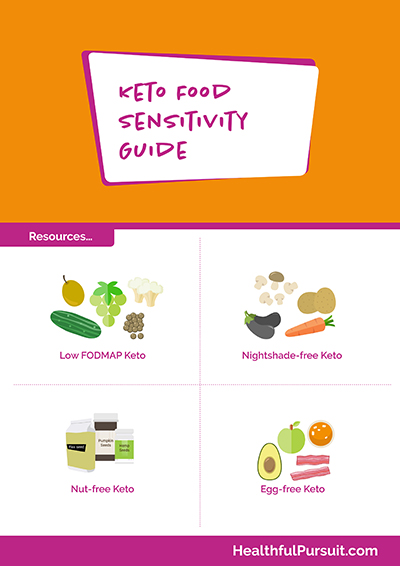 FOOD SENSITIVITY GUIDE
7-page guide on successfully swapping out common keto ingredients to create your low-FODMAP keto diet, nightshade-free keto diet, nut-free keto diet, or egg-free keto diet.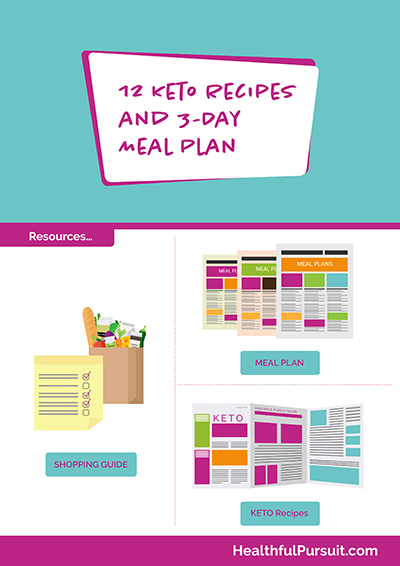 3-DAY MEAL PLAN
Recipes for breakfast, lunches, dinners, and snacks for 3 full days. Plus, you'll have extras to span across the week.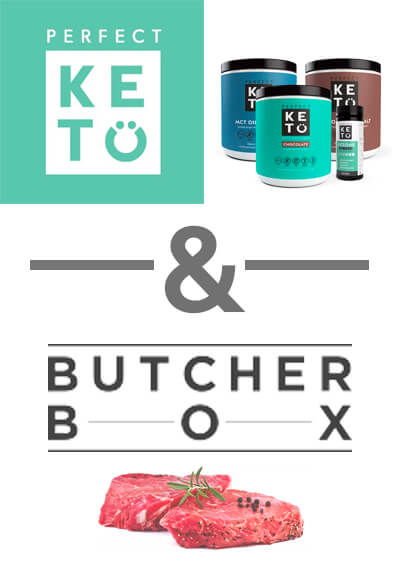 PRODUCT DISCOUNT CODES
Exclusive offers, just for you. Get $30 off your first ButcherBox + free bacon and 15% off a Perfect Keto product of your choice!
140+ RECIPES
The recipe chapters of this book are organized by meal type, with the recipes in each chapter ordered from smallest to largest which will make planning your meals ahead of time—or picking out a recipe at the last minute—so much easier.
Sauces & Spreads | Breakfasts | Lunches | Dinners | Savory Snacks | Sweet Snacks | Extra Sips
MAKING IT YOURS
Keto is not a one-size-fits-all way of eating. The Keto Diet Cookbook offer a wealth of advice for customizing the diet to keep you from feeling frustrated and stuck. Learn how to eat keto with foods you have in your kitchen, with the resources you have available right now—simple and easy!
Each recipe is packed with handy extras that make it even easier to use and adapt, from portion sizes to comprehensive nutrition information to substitutions for those with dietary restrictions, such as vegetarians and people with food allergies.
ready in under 10 minutes
FREQUENTLY ASKED QUESTIONS
HOW IS THE KETO DIET COOKBOOK DIFFERENT FROM YOUR LAST BOOK, THE KETO DIET?
The Keto Diet has in depth information about how to follow a ketogenic diet and build a program that works best for your body.
In The Keto Diet Cookbook, the focus is all on the food – how to structure your meal plans, how to plan meals based on your goals, what foods to choose, which foods will get you closer to your goal, how to shop for those foods… and the most exciting feature of the whole book – The Keto Diet Meal Planning System.
The Keto Diet Meal Planning System provides readers with 3 templates to follow based on their meal planning needs. In one of the templates, you're guided through determining how much food to eat based on your goals, you're provided a meal planning combination to follow, and then each of the recipes in the book can plug into your unique combination.
This is a unique feature that makes each and every one of the recipes in the book useable!
ARE THE RECIPES IN THE KETO DIET COOKBOOK DIFFERENT FROM THE RECIPES IN THE KETO DIET?
Yes, all of the recipes in The Keto Diet Cookbook are brand new. They've never been on the blog, or in any Healthful Pursuit programs or books. Plus, all of the recipes are complete meals.
IS THE KETO DIET COOKBOOK A GOOD OPTION FOR LARGE FAMILIES?
82% of the meal recipes serve 4 or more and there are serving guides in the back of the book that make it easy to spot which recipes are family friendly (4 or more servings).
ARE THE RECIPES IN THE KETO DIET COOKBOOK DAIRY-FREE TOO?
All of the recipes in The Keto Diet Cookbook are dairy-free, but many have the option to add dairy in the form of milk, butter, ghee, or cheese. Each recipe where dairy options are included, there is a dairy-free and dairy option.
WILL THE KETO DIET COOKBOOK BE AVAILABLE IN DIGITAL FORM/AS AN EBOOK?
Yes, The Keto Diet Cookbook is available in Kindle format
IS THE KETO DIET COOKBOOK SMALLER THAN THE KETO DIET?
The Keto Diet Cookbook has 15 more recipes than The Keto Diet, but it is a few pages shorter.
WILL LEANNE BE GOING ON TOUR?
We would love that! Check this page in the coming weeks for more details.